Recommended by Healthcare Professionals
Support healing and recovery from injuries.

Rehab Special: These special ingredients have been shown to reduce inflammation, help repair connective tissue (muscles, bones, tendons and ligaments), strengthen bone matrix, fight free radical damage and expedite healing. Reach for this complete blend of vitamins, minerals and nutrients to aid in recovery and healing.Rehab SpecialReplace have a significant impact on heart health. Help your body maintain heart and overall health, normal cholesterol levels, and youthful activity with this advanced nutritional protection and support. Make Rehab Special a regular part of your everyday nutrition !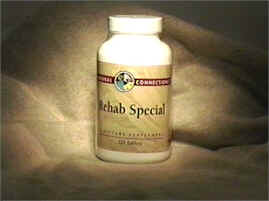 Sale* %%product(14549).description%% $%%product(14549).price%%
Other NCI Products
[Allergy Formulas]
[Aloe Vera Juice Tablets]
[American Ginseng]
[B12 Folate Sublingual]
[Black Current Capsules]
[Blue Green Algae]
[Bone Strength Formulas]
[Calcium + Magnesium]
[Calm Me]
[Coenzyme Q-10 with Lecithin]
[Coenzyme Q-10 with Lipoic Acid]
[DHEA]
[Chewable Vitamin C]
[Vitamin E]
[Echinacea]
[Echinacea Zinc Lozenge]
[Energy Formulas]
[Executive Stress Formulas]
[Fatigue Formulas]
[Flax Seed Oil]
[Ginger]
[Golden Seal]
[Green Tea Extract]
[Heart and Cholesterol Formulas]
[Immune System Formulas]
[Joint and Arthritis Formulas]
[Kids Daily Multivitamin]
[Cancer Formulas]
[Melatonin]
[Memory Formulas]
[Metabolike-Diet and Energy]
[Mineral Bath Salts/Lavender]
[Multi Probiotic Friendly Bacteria]
[Natural Vitamin C Plus]
[Natural Diet Capsules + Herbs]
[Magnesium]
[Phytonutritional Vege Plus]
[Prostate and Erectile Dysfunction]
[Rehabilitation Formulas]
[Skin Formulas]
[Ultra Antioxidant]
[Ultra Vigor Daily]
[Vita Plus]
[Weigh Less Diet Formulas]
[Winter Viral Formulas]
[Women's Formulas]
[Yeast Formulas]
[Yucca Root]
[Viagra]
[Home Page]
[Order Page]
Recommended dosage:Four tablets daily with meals.
Bottle contains: Replace 120 capsules
Ingredients: Bromelain (minimum of 2,000 mcu), Chymotrypsin, Trypsin, Chondroitin Sulfate, Pancreatin 4x (providing Protease, Amylase and Lipase), L-Aspartic Acid, Proanthocyanidins (red wine grapes) Microcrystalline Hydroxyapatite, Mucopolysaccharides, Rutin, Capsicum, Chamomile (German), DL-Phenylalanine, N-Acetyl-L-Cysteine/L-Cysteine HCL, DL-Methionine, Betaine HCL and Glutamic Acid HCL...500 mg., Copper (Amino Acid Chelate): 150 mcg. and Iron (Amino Acid Chelate): 1.5 mg. Beta-Carotene (Vitamin A Activity) 15,000 I. U. Vitamin A (Palmitate, water dispersible) 5,000 I. U. Vitamin D3 5.0 I. U. Vitamin E (d-Alpha Tocopheryl Succinate) 200 I. U. Vitamin C (Ascorbic Acid, corn free) 1,000 mg. Vitamin B-1 (Thiamine HCL) 50 mg. Vitamin B-2 (riboflavin) 25 mg. Niacin 20 mg. Niacinamide 100 mg. Pantothenic Acid (d-Calcium Pantothenate) 150 mg. Vitamin B-6 (Pyridoxine HCL / Pyridoxal-5-Phosphate Complex) 25 mg. Vitamin B-12 (on Ion exchange resin) 100 mcg. Folic Acid 800 mcg. Biotin 300 mcg. Choline Citrate/Bitartrate 50 mg. Inositol 25 mg. Citrus Bioflavonoid Complex 100 mg. PABA (Para-Aminobenzoic Acid) 50 mg. Calcium (Citrate&Ascorbic Acid) 300 mg. Magnesium (Aspartate Complex) 300 mg. Potassium (Aspartate Complex) 75 mg. Zinc (Aspartate Complex)2 0 mg. Manganese (Aspartate Complex) 15 mg. Chromium GTF (organically bound with GTF 200 mcg. activity - Low Allergenicity) Selenium (amino acid complex) 200 mcg. Molybdenum 50 mcg. Vanadium (amino acid complex) 25 mcg. Boron (Aspartate/Citrate complex) 1 mg. Trace elements (sea vegetation) 100 mcg.
Description: This is a well rounded multiple vitamin/mineral formula with synergistic nutrients to help assist and maintain normal range of motion.".(description)


Uses:To supplement a nutrient deficient food diet and assist the body in avoiding or delaying complications which occur with age.