Energy Support
Recommended by Healthcare Professionals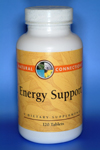 Click to Purchase at Sale Price $%%product(14543).price%%
120 Tablets
(a normal one months supply)
Used to Supply Full Multivitamins and Minerals and Assit in Energy Promotion
Energy Support
Description: This nutritional specific product is a well balanced multiple vitamin/mineral formula with high energy nutrients for active lifestyles and includes a mixture of vitamins, minerals and important nutrients which have revealed in research the natural ability to assist the body's optimal performance.
Uses: To support and active lifestyle with energizing nutrients which help the body resist fatigue and optimize performance.
Recommended Dosage: Four tablets daily with meals.
Actions: These ingredients are synergistically blended to supplement an active lifestyle. Panax Ginseng is energy producing and an adaptogen. Royal Jelly and Gamma Oryzanol from rice bran oil are natural ergogenic food concentrates. DOG (dimethylglycine) is naturally found in our cells and many foods. It is a metabolic enhancer and increases oxygen uptake which combats fatigue. Amino acids L-Camitine, Inosine, N-Acetyl-L-Cysteine, DL-Methionine, Glutamic Acid and L-Aspartic Acid all contribute to physical endurance and recovery. In conjunction with the specially formulated base formula, Vitamins A, C, and E, beta carotene as well as the trace elements selenium, manganese, potassium, zinc and methionine are the main nutrient immune system stimulants. Vitamin A is supplied in part by beta-carotene that assists the body's natural defenses against free radicals and is one of the most important antioxidants. Along with beta-carotene, Vitamin E can neutralize the free radicals as well as inhibit the formation of bad cholesterol. The B complex vitamins are important to activate the antioxidants. Vitamin C and the bioflavinoids also work together to fight damage by free radicals. Studies have shown that increased consumption of vitamin C helped to boost immunity, and protect against pollution, smoke and other sources of free radicals. Calcium, magnesium and potassium are vital for cell stabilization and proper functioning. Vitamin D helps the body to absorb calcium and molybdenum assists in iron utilization. Working together, vitamins C, E and the amino acids help our bodies to reject toxins and battle free radical damage.
Ingredients: Ginseng (Panax), royal Jelly, Octacosanol, Smilax Officinalis (Sarsaparilla), Gamma Oryzanol (rice bran oil), n, n dimethylglycine (DMG), L-Carnitine, Inosine, N-Acetyl-L-Cysteine, DL-Methionine, Betaine HCL, Glutamic Acid and L-Aspartic Acid...500 mg. Beta-Carotene (Vitamin A Activity) 15,000 I. U. Vitamin A (Palmitate, water dispersible) 5,000 I. U. Vitamin D3 5.0 I. U. Vitamin E (d-Alpha Tocopheryl Succinate) 200 I. U. Vitamin C (Ascorbic Acid, corn free) 1,000 mg. Vitamin B-1 (Thiamine HCL) 50 mg. Vitamin B-2 (riboflavin) 25 mg. Niacin 20 mg. Niacinamide 100 mg. Pantothenic Acid (d-Calcium Pantothenate) 150 mg. Vitamin B-6 (Pyridoxine HCL / Pyridoxal-5-Phosphate Complex) 25 mg. Vitamin B-12 (on Ion exchange resin) 100 mcg. Folic Acid 800 mcg. Biotin 300 mcg. Choline Citrate/Bitartrate 50 mg. Inositol 25 mg. Citrus Bioflavonoid Complex 100 mg. PABA (Para-Aminobenzoic Acid) 50 mg. Calcium (Citrate&Ascorbic Acid) 300 mg. Magnesium (Aspartate Complex) 300 mg. Potassium (Aspartate Complex) 75 mg. Zinc (Aspartate Complex)2 0 mg. Manganese (Aspartate Complex) 15 mg. Chromium GTF (organically bound with GTF 200 mcg. activity - Low Allergenicity) Selenium (amino acid complex) 200 mcg. Molybdenum 50 mcg. Vanadium (amino acid complex) 25 mcg. Boron (Aspartate/Citrate complex) 1 mg. Trace elements (sea vegetation) 100 mcg.
Contains NO yeast, wheat, soy, corn, dairy products, salt, sugar,
artificial coloring, preservatives or flavoring.
Natural Diet Caps + Herbs
Recommended by Healthcare Professionals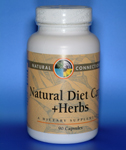 Sale* %%product(97442).description%% $%%product(97442).price%%


90 capsules
(a normal one months supply)


Natural Diet Caps + Herbs
Description: This dietary supplement is a safe and natural capsule formulated to assist in weight loss.
Lose pounds and inches naturally. Help your body promote fat loss and build lean muscle. Curbs appetite, reduces food intake and inhibits the production of cholesterol and fats while providing more energy without the "yo-yo" rebound weight gain.- Lose pounds of fat and inches with safe natural weight loss while building lean muscle. Exceptionally safe.
Recommended dosage: Three capsules per day (or as physician directed).
Bottle contains: 90 capsules (a normal one months supply)
Uses: For individuals who need to lose weight.



Recommended Dosage: One capsule one hour before each meal.
Actions: CitriMax, is a standardized, safe, all-natural plant extract rich in hydroxycitric acid. Hydroxycitric acid (HCA) has shown in studies the ability to curb appetite, reduce food intake and inhibit the production of fats and cholesterol. HCA inhibits the enzyme ATP-citrate Iyase which is the enzyme that converts glucose molecules into fat and cholesterol. Chromate,a Polynicotinate form of chromium has been found to help insulin metabolize fat, turn protein into muscle and convert sugar into energy. * Guarana, Kola Nut' Siberian Ginseng, Wood Betony, Beet Powder, Cayenne, American Centaury, Gotu Kola and Ho Shou Wu are herbals which work synergistically to give the body energy and assist in the natural production of caffeine.
(* CitriMax and Chrome Mate are trademarks of the InterHealth Company)
Ingredients:
Garcinia Cambogia (Citrimaxä) 500 mg. (supplying 250 mg. of hydroxy-citric acid (HCA).
Chromium GTF 100mcg (Polynicotinate) Chromemateä
In a base of Guarana , Kola Nut, Siberian Ginseng, Wood Betony, Beet Powder, Cayenne, American Centaury, Gotu Kola and Ho Shou Wu.
Cautions: Do not take if pregnant.